© "theV.O.O.I.C.E.
A Magical Super Hero, with Deep Vocalizing Powers
"Music soothes the savage beast", and immobilizes evil doers and criminals of super evil elements.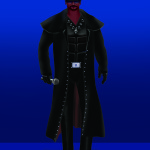 The world has never, ever experienced The Power of this Awesome Super Hero, who uses Music, Sound Vibrations, percussion vibrations, and his magical mystical soothing deep baritone sounds of music to mesmerize his enemies, and subdue the criminals and evil forces of this world and outer worlds. Yet, He also Tantalizes The Crowds, and Audiences, as his "Alter-EGO", non other Than, Cornelius MD.
Down through the ages of times, many have come, and gone, but not any of the others could do what ©the V.O.O.I.C.E. Can do with his powerful, magical, Music.
With Powerful Voice, hypnotizing and mesmerizing power...
Read More