©DETROIT FUTUREPLEX
aka ©D.F.F. (Pronounced as DEAF), aka ©DETROIT METRO CYBERNETIC FORCE:
Created and Written
By, Terry "the Warrior" Reece
Illustrations/Art and co-owned by, Larry Ryan
A Production of Futuristic SCI-FI Technological Visionary Suggestive Impact, with Creativeness and Profound awareness!
The combination of Science, Fiction, Super Natural, Mystery, Magical, Technological, Futuristic, Spiritual, Theoretic, Truth, and profound togetherness of stories, plots, scenes, and compilation of Super Characters.
©COPYRIGHT July 16, 2015 TERRY ALLEN REECE, AKA "the Warrior"
©DETROIT FUTURE FORCE
, aka ©D.F.F. (Pronounced as DEAF), aka ©DETROIT METRO CYBERNETIC FORCE: is A PRODUCT BRAND OF ©REECENETRICS™ BY ®REECE ENTERPRISES/TIME TRAVEL NETWORK, INC./FAMILY MEDIA COMPANY/TDM COMICS INTERNATIONAL, and Jointly owned by All Participating Character Pro-Filer Partners: #TX7-391-838, PREVIOUS REGISTRATION AND YEAR: Txu000523784 1992.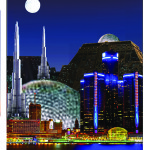 Star Date: 02/01/2501, in the Futuristic World of "©DETROIT FUTUREPLEX":
Imagine a world that has been continually evolving into a New Scientific metropolis of Technological Advancement and a Policing Department and Law Enforcement System that had/has to evolve with such a City and Such a World.
Flash back into time, during 2015, When Mayor ©M.D. and Police Chief, ©J.C., had to make some very Innovative Decisions of where the Future of Protecting the Fast-growing City metropolis needed to go forward in order to keep pace with Technologies and evilness and criminals, even Cyber-Criminals and more and more sophisticated evil-doers.
The Mayor and Chief had a meeting with NEW, EXCITING Company called ©HUMAN CYBERNETIC FUTURES, Inter-Terrestrial. THE "©D.E.E.L." was done!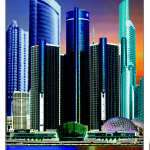 LIST of Important Terms and Organizational facts:
*"©D.E.E.L." = DETROIT EVOLUTIONAL ENFORCEMENT LEAGUE
*©HUMAN CYBERNETIC FUTURES, Inter-Terrestrial = The Most Powerful and largest Earthly Conglomerate Creators of Futuristic Cybernetic-Humanistic Organisms & Researchers of Interstellar and Terrestrial Beings.
*©S.C.E.E.T.O.'S = Synthetic Cybernetic Electronic Energy Terrestrial Organisms (they are even more than life like)
*©Detroit Metropolis SKY-Port (©D.M.S.P.) (Pronounced "DEMPS")
* ©U.P.A. = Universal Planetary Alliance = the governing body over Planets within the Alliance, each with an Alliance member who was elected by their Planet as their Global Leader.
* ©S.K.E.L.E.T.O. Suits = Very, Very Specialized Synthetic Exeo-Skeletal type body armored protective Suits that make Incredible Enhancements to anyone wearing them.
Cast of Stars and Characters:
* ©Mayor M.A.D. = The Well Known Mayor of ©DETROIT FUTUREPLEX
* ©Chief J.A.C. = The Globally acclaimed Chief of Law Enforcement of ©DETROIT FUTUREPLEX
* ©Strategic Law Enforcement Alliance; (©S.L.E.A.) (Pronounced like Sleigh, or slay)
* ©Prime President B.O.4 = The Globally Elected Leader of the ©United Federation of Nations. (©U.F.N.)
* ©Oscar Monteko = The Global Directing Officer (©G.D.O.) of ©HUMAN CYBERNETIC FUTURES, Inter-Terrestrial
* ©D.A.G. = Wealthy Detroit Business Founder/Chairman/CEO
* ©M.W.I. = Wealthy Detroit Business Owner
TO be Continued….On-going/growing Series Publications